Pride Night with XOBC + Beecher's Handmade Cheeses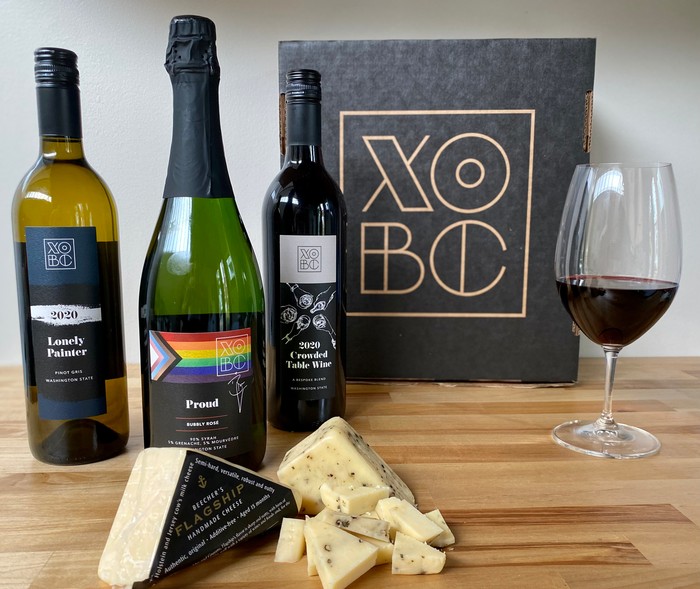 Join us Wednesday, June 29th from 5:30 - 6:30 PM PST for an evening celebrating PRIDE!
XOBC Cellars is proud to be one of few LGBTQIA+-owned wineries in the world. We are honored to be standing alongside another Seattle icon in celebration of Pride Month. Beecher's Head Cheesemonger Brian Gilbert, alongside XOBC Cellars' Lauren Lackey, will take you on an interactive and educational journey of the senses while we taste through a lineup of stellar cheeses and wines that are sure to create the ultimate pairing experience.
XOBC Cellars was founded in 2019 by multi-Grammy-winning artist (and local girl!) Brandi Carlile, her wife Catherine, and their friends, Jeri and Amy Andrews. Their wines showcase the quality and refinement that makes Washington wine unparalleled. XOBC Cellars has struck a chord that's rarely if ever been heard - boutique exceptionalism coupled with a culture of rugged and radical inclusion. These women fused music and wine with a common goal of making a difference by donating proceeds from XOBC Cellars to Brandi's Looking Out Foundation. A true outlier, showcasing female & LGBTQ+ leadership, this team of women in wine has raised the bar for the entire industry.
Your tasting experience will include a three-pack XOBC Cellars wines, three hand-selected Beecher's cheeses, Beecher's crackers, and delicious local honey. We will explore the following pairings:
Proud Sparkling Rosé + Flagship Cheddar
Lonely Painter Pinot Gris + Dutch Hollow Dulcet
Crowded Table Wine + Marco Polo
Interested in becoming a XOBC Collector? Click here to find out more information on our amazing wine club options.
We can ship to all states except AK, CT, DE, HI, MD, MS, NH, NJ, RI, SD, UT, & WV.
AL attendees, we will ship to an ABC store near you for pick-up.
Please note, wines & cheeses will ship separately.
*For XOBC Collectors in AK & HI, we still welcome you to join us with wines only as we are unable to ship the cheese. Please email us at hello@xobccellars.com for more information.