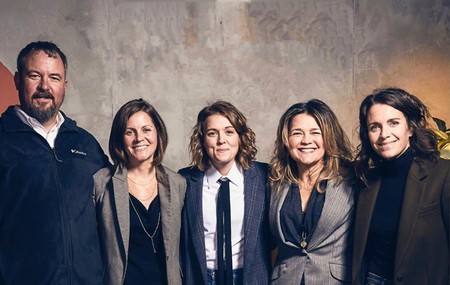 Team XOBC
At XOBC Cellars, we are a group of wine enthusiasts committed to making a difference.
The wine has been years in the making. All four of the women in this partnership, during their friendship over years, have discussed various ways to continue expanding the mission of the Looking Out Foundation. Brandi and Catherine have been incredibly successful in amplifying the spirit of song, of voices, of a collective community to make music mean more. Over a bottle of wine with their friends and fellow board members Amy and Jeri, the four women decided to broaden the sentiment in their hearts to create another channel that magnifies the reach.
They began by asking themselves, what if there was a way to develop an additive mechanism around something else we all loved, another avenue for giving back that was a little bit fun, an instrument to contribute that has equally deep meaning and generosity behind it?
What if that original collective community grew? What if it became a community of Collectors?
Together, in partnership with revered winemaker Sean Boyd, team XOBC worked to create a legacy of libations that represent the antithesis of mediocrity. We wanted to bottle the goodness that comes out of sharing a meal with a friend or stranger. We wished to create a taste reminiscent of a campfire, of the woods, of sunrise and sunset. We wanted to offer something that helped celebrate and commemorate special occasions. We wanted to do good while drinking good wine.
And so we bring it to you now with much affection and gratitude. Thank you, from the bottom of our hearts, for ensuring that together, we remember and recognize our shared humanity. Thank you for capturing the memories of your life not just by listening to our music, but by opening a bottle of our wine.
"Wine makes daily living easier, less hurried with fewer tensions and more tolerance" ― Benjamin Franklin.