Our Family of Wines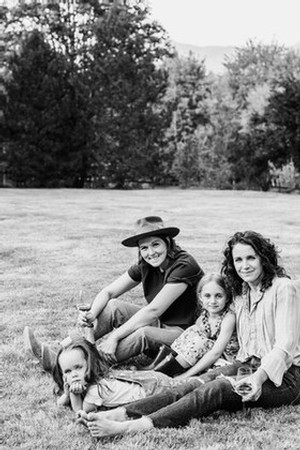 All of our wines are Rhone-style with fruit that hails from some the best and most unique vineyards in Washington State.
The wines in the fall release are named after Brandi's three girls, and are comprised of two reds that are single varietals from the revered Rocks District of Walla Walla Valley, a Grenache and a Syrah. Our rosé is a blend of these two beautiful types of rocks fruit. This incredible terroir was created at the end of the last Ice Age and the soil that settled in this river basin reflects the provincial rugged rock, stone, and scrubby vineyards more commonly found in rustic southern France. It is home to a niche of some of the most distinctly exotic, elegantly perfumed wines that are receiving world-wide acclaim.
The spring allocation holds BC's namesake, and is a Cabernet Sauvignon from Wallula Vineyard. Considered by many to be the best vineyard in Washington State, it is exclusively dedicated to producing world-class Cabernet fruit.
We offer these wines as part of a membership. Because of the exceptional nature of this region, fruit is limited, and thus, memberships to our Collector's club are finite. We invite you to sign up now and thank you for making wine mean more.
To purchase wine outside of our Collectors club, please see click here to learn more about our XO Sparkling Rosé.
*A signature is required upon delivery by someone 21+ years of age.
---

Add To Your Collection
2020 Crowded Table Wine
Washington State
750 ml bottles
A velvety bespoke red blend that celebrates Brandi's collaborative spirit as we tip our hat to The Highwomen.
Ships separately from your club allocations.

Add To Your Collection
XO Sparkling Rosé
Washington State
750 ml bottles
Our XO Sparkling Rosé is the go-to for all of life's special moments, from everyday hoorays to big celebratory occasions. This unique cuveé of Rhone varietals has a subtle and sophisticated light peach color in the glass, reminiscent of a sunset at sea. The nose is fresh with notes of ripe nectarine and honeydew melon. Vibrant flavors of wild strawberry and ruby grapefruit give way to a perfectly balanced effervescence that salutes you for making a difference.
Thank you for making your celebrations mean more.
Ships separately from your club allocations.

SOLD OUT
2020 Lonely Painter
Washington State
750 ml bottles
Our first ever white wine, Lonely Painter is an elegant, fresh and crisp Pinot Gris inspired by music legend Joni Mitchell.
Ships separately from club allocations.

*The Collectors club is a biannual membership-based wine club with a fall and spring release each year.
*All wine club members have access to ordering additive wine by logging into their account.
*We utilize ground shipping. During hot summer months, we must ship via Next Day Air.
By signing up for the Collectors club, you acknowledge that additive shipping charges will be incurred during those times.
*An adult signature is required for alcohol shipments at the time of delivery.
We recommend shipping to a business address to avoid missed deliveries or additive shipping fees.
*We always provide advance notice of club processing.
All membership cancellation requests must be sent to hello@xobccellars.com in advance of processing.
All orders for club shipments that have been processed are not able to be cancelled or refunded.