Brand Assets Wine Assets Distributors Retail Locations
---
Brand Assets
PDFs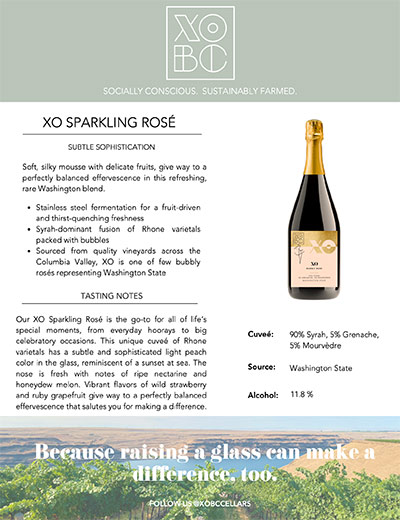 Wine Tech Sheets (PDF)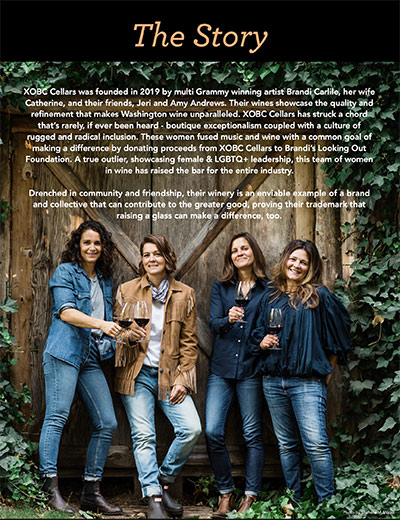 The Story (PDF)

Photos
Please contact Jordan Hostetter to request approval for use of imagery.
---
Wine Assets
---
Distributors
We value our strategic partnerships with the distributors below, ensuring thoughtful representation of XOBC's wines in the broader marketplace. If you are a bottle shop or restaurant looking to carry our wines, please contact the appropriate distributor below. For any other inquires, please contact Lauren Lackey, VP of Distribution.
TENNESSEE - MEMPHIS
Southern Glazer's Wine & Spirits
901-363-5555
sgproof.com
TEXAS
Southern Glazer's Wine & Spirits
972-277-2000
sgproof.com
VIRGINIA
Republic National Distributing Company
804-226-4362
rndc-usa.com
WASHINGTON
Self-distributed
Contact Lauren Lackey, VP of Distribution
lauren@xobccellars.com
---
Retail Locations
We are proud to provide our wines to our community at the following businesses. Please continue to support us by purchasing our wines at these retail and restaurant locations.
CALIFORNIA
Palm Springs Bottle Shop
Palm Springs, California
Santa Barbara Gift Baskets
Goleta, California
Solomon's
Sacramento, California
The Russ Room
Sacramento, California
GEORGIA
Sip Happens
Suwanee, Georgia
Lucy's Market II
Atlanta, Georgia
Country Club of the South
Johns Creek, Georgia
Village Spirits
Flowery Branch, Georgia
Carriage Hills Bottle Shoppe
Macon, Georgia
Redbird
Atlanta, Georgia
Legacy Beverage Center
Loganville, Georgia
Loganville Package Store
Loganville, Georgia
Dom Beijos
Atlanta, Georgia
Holeman & Finch Bottle Shop
Atlanta, Georgia
Out of The Blue
Blue Ridge, Georgia
John's Creek Wine
Johns Creek, Georgia
NEW HAMPSHIRE
Mt. Washington Hotel
Bretton Woods, New Hampshire
City Tobacco + Beverage
Seabrook, New Hampshire
New Hampshire Liquor + Wine Outlet
Hampton, New Hampshire
NEW YORK
Lake House on Canadaigua
Canandaigua, New York
Drawbridge Wine & Liquor
Rochester, New York
Morrell
New York, New York
Grand Cru
New York, New York
The Wine Emporium
Ridgewood, New York
D Lobby
Wantagh, New York
TENNESSEE
Poplar Wine & Spirts
Collierville, Tennessee
Germantown Village Wines
Germantown, Tennessee
Kimbrough Fine Wine & Spirits
Memphis, Tennessee
Busters Liquors
Memphis, Tennessee
Grey's Fine Cheese Cafe
Memphis, Tennessee
R&R Liquor
Memphis, Tennessee
Town Suites
Nashville, Tennessee
Interstate Liquors
Manchester, Tennessee
Parkway Wine and Spirits
Smryna, Tennessee
Maury Package Store
Columbia, Tennessee
Southern Spirts Wine + Liquor
Lebanon, Tennessee
Liquor World of Nashville
Antioch, Tennessee
Omni Nashville Hotel
Nashville, Tennessee
TEXAS
Spec's Wine, Spirits, & Finer Foods - Brodie Lane
Austin, Texas
Avanti
Dallas, Texas
MOGO Modern Goods Market
Dallas, Texas
Spec's Wine, Spirits, & Finer Foods - North Central Expy
Dallas, Texas
Spec's Wine, Spirits, & Finer Foods
Fort Worth, Texas
Spec's Wine, Spirits, & Finer Foods
El Paso, Texas
Spec's Wine, Spirits, & Finer Foods - Smith Street
Houston, Texas
Spec's Wine, Spirits, & Finer Foods - N Central Exwy
Houston, Texas
Spec's Wine, Spirits, & Finer Foods - Fountain View
Houston, Texas
Spec's Wine, Spirits, & Finer Foods - Bissonnet
Houston, Texas
United Supermarkets - 50th Street
Lubbock, Texas
United Supermarkets - 98th Street
Lubbock, Texas
Market Street
Odessa, Texas
Spec's Wine, Spirits, & Finer Foods
San Antonio, Texas
Spec's Wine, Spirits, & Finer Foods
Spring, Texas
Spec's Wine, Spirits, & Finer Foods
Spring Valley, Texas
NEW HAMPSHIRE
NH Liquor Store #38
Portsmouth, New Hampshire
NH Liquor Store #60
West Lebanon, New Hampshire
NH Liquor Store #64
New London, New Hampshire
NH Liquor Store #68
North Hampton, New Hampshire
NH Liquor Store #84
Tilton, New Hampshire
NEW JERSEY
Union Plaza Liquors
Hazlet, New Jersey
Allendale Wine Shoppe
Allendale, New Jersey
Angelbeck
Montclair, New Jersey
Berkley Fine Wine & Spirits
Clarksboro, New Jersey
Burkes Tavern
Newark, New Jersey
Buy Rite Paddock Liquors
West Long Beach, New Jersey
Cheers Wine & Spirits
Voorhees, New Jersey
Colonial Liquors
Pluckemin, New Jersey
Ever Blue Liquors
Linden, New Jersey
Froggie's Discount Liquors
Haddon Township, New Jersey
Gallo's Wine & beer
Matawan, New Jersey
Garden State Dairy + Liquor
Closter, New Jersey
Gleeson Liquors
Ocean View, New Jersey
Happy Tap Spirits
Brown Mills, New Jersey
Hollywood Liquors
West New York, New Jersey
Home Wine & Liquors
Union, New Jersey
Jersey Fine Wines
East Brunswick, New Jersey
Jersey Fine Wines
New Providence, New Jersey
Laico's Lounge
Jersey City, New Jersey
Liquor Basics
Roselle, New Jersey
Liquor Outlet Wine Cellars
Boonton, New Jersey
Liquor Vault
Garwood, New Jersey
Marketboy Liquors
Old Bridge, New Jersey
Metro Liquors - E. Rutherford
East Rutherford, New Jersey
Monaghan's Liquors
Toms River, New Jersey
Monroe Wine & Spirits
Monroe Township, New Jersey
Ramsey Liquor
Ramsey, New Jersey
Roserne Liquor Northbound
Kinnelon, New Jersey
Roserne's Wine & Liquor (Southbound)
Butler, New Jersey
Salina Wine & Liquor
Sewell, New Jersey
Spirit Main Street
Barnegat, New Jersey
Spirits Unlimited
Toms River, New Jersey
Stirling World of Liquors
Stirling, New Jersey
The Wine Rack
Millburn, New Jersey
Westmont Liquors
Haddon Township, New Jersey
Wine Legend
Audubon, New Jersey
White Deer Inn
Sparta Township, New Jersey
OREGON
Clarklewis
Portland, Oregon
The Wine Cellar
Portland, Oregon
Division Wines
Portland, Oregon
El Gaucho
Portland, Oregon
Campfire Hotel
Bend, Oregon
WASHINGTON
Butcher's Table
Seattle, Washington
Carlile Room
Seattle, Washington
Collections Cafe
Seattle, Washington
Crocodile
Seattle, Washington
Easy Street Records & Cafe
Seattle, Washington
El Gaucho
Tacoma, Washington
Gourmondo
Seattle, Washington
Herbfarm
Woodinville, Washington
Kamp Social House
Seattle, Washington
Marymoor Park Concerts
Seattle, Washington
Medium Plus
Seattle, Washington
Metropolitan Market Admiral
Seattle, Washington
Metropolitan Market Gig Harbor
Gig Harbor, Washington
Metropolitan Market Kirkland
Kirkland, Washington
Metropolitan Market Magnolia
Seattle, Washington
Metropolitan Market Mercer Island
Mercer Island, Washington
Metropolitan Market Sammamish
Sammamish, Washington
Metropolitan Market Sand Point
Seattle, Washington
Metropolitan Market Uptown
Seattle, Washington
Metropolitan Market Proctor
Tacoma, Washington
Boardwalk at Microsoft
Bellevue, Washington
Osprey Bistro
Seattle, Washington
PCC Ballard
Seattle, Washington
PCC Bothell
Bothell, Washington
PCC Burien
Burien, Washington
PCC Central District
Seattle, Washington
PCC Columbia City
Columbia City, Washington
PCC Greenlake Village
Seattle, Washington
PCC Redmond
Redmond, Washington
PCC West Seattle
Seattle, Washington
Pop Culture Wine Bar
Kirkland, Washington
Royal Block
Waitsburg, Washington
Runway Market
Walla Walla, Washington
Saffron
Walla Walla, Washington
Single Shot
Seattle, Washington
Space Needle
Seattle, Washington
Surrell
Seattle, Washington
Terra Bella
Seattle, Washington
The Neptune
Seattle, Washington
The Thief
Walla Walla, Washington
Vino Verite
Columbia City, Washington
Washington Athletic Club
Seattle, Washington
West Seattle Cellars
Seattle, Washington
Whippoorwill Grazing Co.
Everett, Washington